Poznań
Publications
Investment offers
PPP/concession projects
Contact
News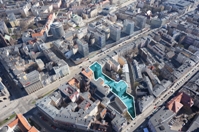 2013-05-10
Raczynski Library is moving its collection to a new building at Marcinkowski Alleys. A magnificent building at Św. Marcin 65 Street, with the second building at Garncarska 7 Street and attractive plot in the center of Poznan, will be sold through an open tender in mid-June.
2013-05-08
ANNOUNCEMENT OF A TECHNICAL DIALOGUE CONCERNING THE PERFORMANCE OF THE UNDERTAKING:
entitled: "Regeneration of the "old paper mill" and "small manor house" at ul. Szyperska 8-9, construction of a river harbour at the "tip" of the Warta river, at ul. Estkowskiego in Poznań and managing them in order to provide cultural and recreation services."
2013-04-12
The City of Poznań and SITA Zielona Energia signed a contract for a project involving the financing, design, construction and operation of a municipal waste incineration plant. It is the largest investment of this type in Poland implemented within a Public-Private Partnership (PPP).
2013-04-10
The biggest and the most important international biotechnological event. This year we will focus on issues related with main topic "Facilitating dialogue between business and academia".
2013-04-05
City of Poznań has issued a report on the commercial real estate entitled "Poznań Real Estate Market Report". The publication was prepared in cooperation with the leading international advisor in the commercial real estate market Colliers International.
2013-04-03
Moody's Investors Service, an independent rating agency, confirmed Poznań rating at level A3, with a stable outlook
2013-03-07
On 28th February2013, at the seat of Franklin Templeton Investments in Poznań a conference "Employee volunteering as part of CSR activities" took place. The conference was held on the initiative of Franklin Templeton in cooperation with the City of Poznań and ABSL (the Association of Business Service Leaders).
2013-03-06
There is a new tenant in a beautifully renovated "round" office building "Okrąglak" in the city center of Poznań. Rule Financial, a new investor in Poznan, has leased 900 square meters of office space.