New Pixel office buildings under construction!
The Pixel Complex will be expanded with two new buildings. The cornerstone was laid down for their construction on 23 June. The second stage of the construction will deliver to the market 17,000 sq m of flexible modern office space. The new buildings will be the twin halves of the first Pixel building, a very spectacular one in terms of architecture and ranked top in terms of ecological building in Poznań, which was rented in whole by the Allegro Group.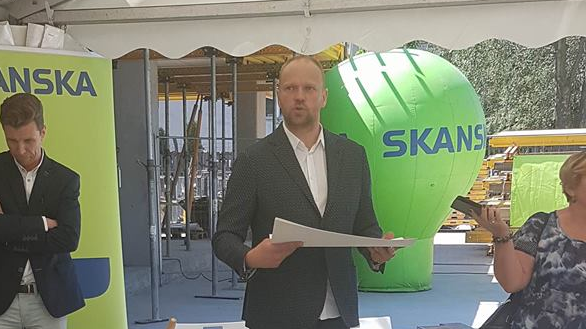 "Garvest's shareholders agreed to continue this project,' this is how the investor's representative, Michał Włodarczyk, opened the ceremony of signing the foundation charter.
Garvest's representative stated that an entire cluster of five office buildings with a yard and a conference pavilion in the middle will be built at the junction of Grunwaldzka and Babimojska streets as it had been designed by JEMS Architekci. This is because of the great success of the first Pixel building, which is occupied by the content employees of the Allegro Group, taking advantage of the compound's restaurant, a nursery, and a pre-school for their children. With the needs of the employees working in the complex in mind, the two new buildings will also include a medical centre and a fitness club. Like the Allegro building, the new Pixels will also be equipped with amenities for cyclists. New buildings are developed in compliance with the highest standards of sustainable building.
Garvest is famous for interesting architectural designs. Recently, Garvest completed the Bałtyk building in Poznań, designed by Nathalie de Vries from the Dutch MVRDV group. Bałtyk, situated at Rondo Kaponiera, looks differently from each side. It is believed to be among the favourites for the next year's Bryła Roku contest. The first Pixel building received a prestigious John Baptist Quadro award in 2013. It was appreciated by architectural experts and by the industry media.
Most important information about the II stage of the Pixel complex:
- Garvest Real Estate's investment
- Two buildings offering 17,000 sq m in total
- JEMS Architekci designed the entire cluster of buildings
- Skanska is the general contractor
- Planned completion date - 2018.