World Computer Congress
A few hundred IT specialists from around the world attends the World Computer Congress in Poznań. The agenda includes talks on current trends, as well as debates, networking meetings, and an opportunity to present one's own research. The Congress starts today and will last until 21st September 2018.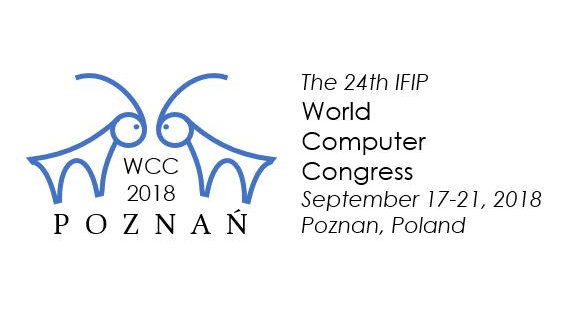 The leading topic of this year's WCC is: Information Processing in an Increasingly Connected World: Opportunities and Threats. The main issues to be addressed include security and privacy protection, business analytics and data science, technologies for processing large and heterogeneous volumes of data (Big Data), enterprise-class IT systems and data base technologies, and social aspects of IT, research and development of IT in processing industry and science, and the development of computer science in a historical perspective. The agenda also includes an international cybersecurity contest-Capture the Flag, or thematic sessions on the Enigma cipher machine with a practical demonstration.
The participants will hear a series of keynote talks by world-class experts, e.g. Sir Dermot Turing (Alan Turing's nephew), Prof. Wil van der Aalst-one of the most cited computer scientists in the world, Dr. Jan Camenisch-an expert on cryptography and privacy protection, or Prof. Leslie Valiant-the founder of computational theory and a Turing Prize laureate. IT enthusiast will also have the opportunity to meet professionals from the leading global companies (e.g. GSK, IBM, Intel, Microsoft, Roche, Beyond, Intel), and IT exports from the industry and academia from all around the world.
The World Computer Congress (WCC) is organised by the International Federation for Information Processing (IFIP)-the leading international federation in the field, established in 1969 under the auspices of UNESCO. IFIP members include societies and academies of science from over 50 countries. In total, the Federation includes over 350,000 computer scientists, many of whom are Turing Prize laureates (the computer science counterpart of the Nobel Prize).
WCC is held every 2 or 3 years since 1959. Every edition is attended by a few hundred to 2,000 representatives of science and industry. The last WCC editions were hosted by Canada (2002), France (2004), Chile (2006), Italy (2008), Australia (2010), the Netherlands (2012), and Korea (2015). Only one such event was held in Central and Eastern Europe (Hungary, 1998). WCC in Poznań will therefore be the first IFIP congress in this part of Europe in 20 years. There will be no other opportunity to attend the event soon. Every WCC is held in a different city in the world.