UEFA EURO Cup goes on tour in Poland and Ukraine
2012-04-03
Memorable moments for fans in fourteen cities throughout Poland and Ukraine as the iconic Henri Delaunay cup goes on tour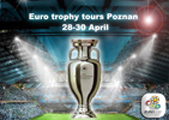 Supporters from Poland and Ukraine will have a unique opportunity to see up close the iconic Henri Delaunay Cup, which from 20th April until 26th May will travel throughout cities in Poland and the Ukraine, the host countries of the UEFA EURO 2012 tournament.
The promotional campaign entitled "UEFA EURO 2012 - Welcome the Cup" will be held throughout 14 cities, including the eight host cities. The event kicks off in the Polish capital - Warsaw on 20 April 2012. On the first day of the "Cups' visit in each of the host cities a parade will be organized, whose participants will carry the special trophy to a place location where for the next two days it will on view to the visiting public.
During this event, visitors will be able to meet celebrities from the world of football and culture alike, including the Ambassadors for UEFA EURO 2012 - Andrzej Szarmach and Zbigniew Boniek. Visitors will be able to take a photo with them and get their autographs.
This is the route that the UEFA EURO 2012 cup will follow:
Poland
- Warsaw 20-22 April
- Gdańsk 24-26 April
- Poznań 28-30 April
- Wrocław 4-6 May
- Łódź 7 May
- Kraków 9 May
- Katowice 10 May
Ukraine
- Kiev 11-13 May
- Iwano-Frankowsk 14 May
- Charków 15-17 May
- Donetsk 18-20 May
- Dniepropietrowsk 21 May
- Lviv 23-25 May
- Odessa 26 May
Details of events will be released shortly before the arrival of the Cup in your city.