Blockchain technology for companies and business! The first conference of its kind in Poznań
Do you run a company or business in Poland? Wondering how to stay ahead of the competition? Learn about one of the biggest technological trends of the future that will revolutionise many industries! Already on 13 September, a one-day conference "Blockchain in business - new opportunities" will be held, organised by the Blockchain Poland Association, which is fully dedicated to the practical applications of blockchain for businesses and projects.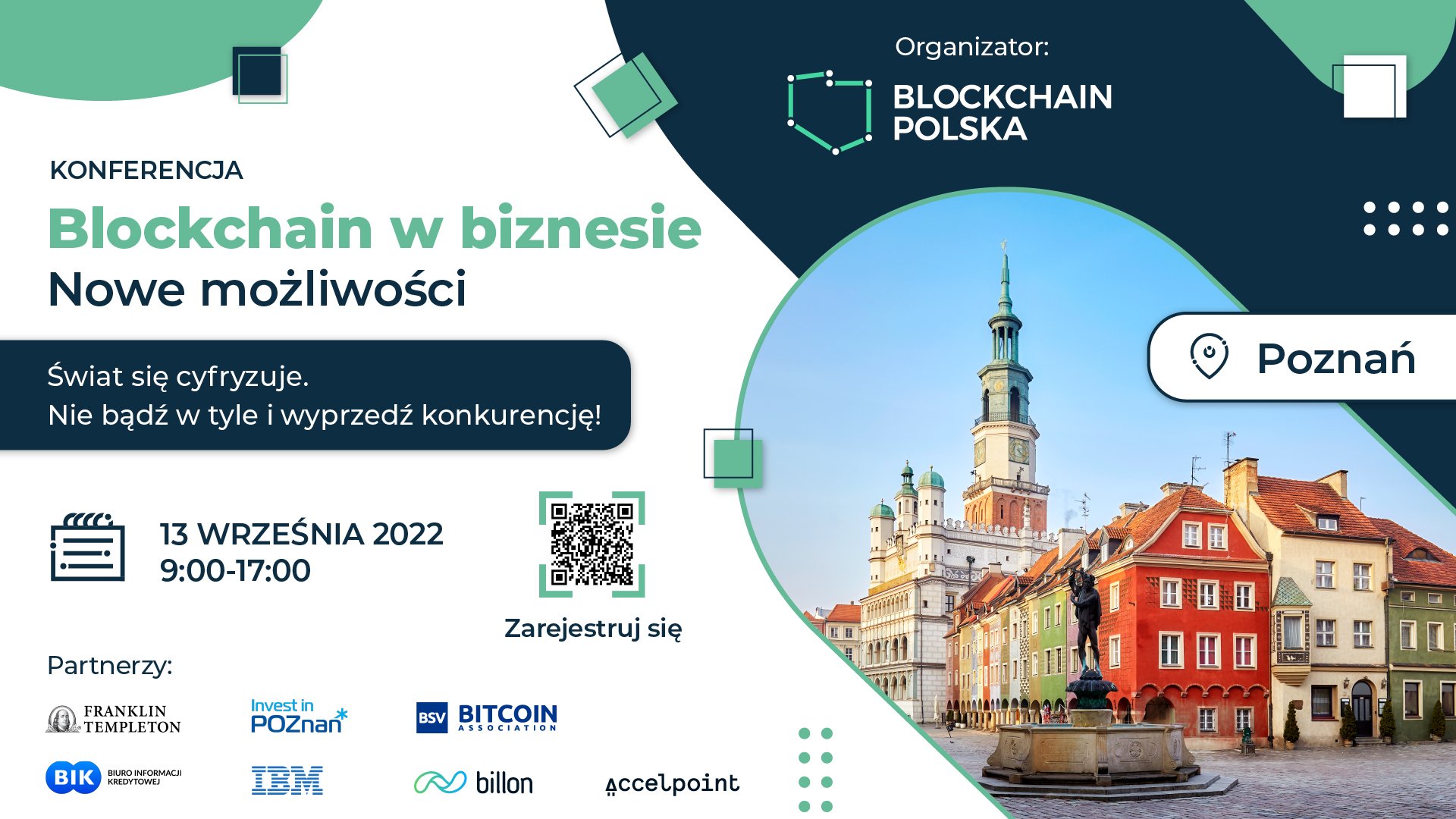 There is no denying that blockchain technology is becoming more and more talked about, and not only companies that want to grow their business, but also governments around the world are interested in it. More and more trends are dominating the market, of which blockchain is becoming a cornerstone. From projects using the technology to optimise corporate processes, to the area of decentralised finance (DeFi), digital identity, asset tokenisation, traceability and other topics related to the so-called web3. This means that blockchain is a not-to-be-missed innovation that will grow in importance and value. The estimated growth rate is more than 68% per year. It is therefore the ideal time for businesses to deepen their understanding of blockchain's potential and how it can be used.
So how can companies benefit from current trends such as web3, metaverse, tokenisation or digital assets? What are the tangible benefits of such solutions, and what challenges need to be faced? You will soon be able to hear the answers to these and other questions through a unique event.
In order to meet the expectations of the market, the Blockchain Poland Association is organising a one-day conference entitled 'Blockchain in business - new opportunities', which will be held on 13 September in Poznań. This is the first event in Poland devoted exclusively to blockchain solutions for companies and business, so it is worth registering. The best industry experts with unique experience in implementing blockchain technology in Poland and worldwide have been invited to the conference.
The aim of the event is to bring together businesses, start-ups and other business entities regardless of sector. The topics of lectures and panel discussions, will focus on the following:
Blockchain for businesses - a discussion of key trends and business potential

Digital assets as new business models and value streams - tokenisation, nft, CBDC, digital cash

Blockchain in supply chains - opportunities and risks

Presentation of selected projects based on blockchain technology and discussion of their practical aspects

Blockchain in insurance, music, art, sports, etc.
The event is also an excellent opportunity for networking, establishing key partnerships, exchanging opinions and discussions in an intimate setting of 180 participants.
It is worth mentioning that the City of Poznań stands out on the map of Poland when it comes to blockchain. It is here that there is a real technological basin from which companies from all over the country can draw. The vast majority of Polish start-ups are also established in Poznań, making the city mark its position in terms of innovation.
Event partners: Franklin Templeton, IBM, Billon Group, Bitcoin Association, Credit Information Bureau, Invest in Poznań and Accelpoint accelerator.