Centrum Doradztwa Zawodowego
Artukuły
Contact
Festung Posen - Fortress of Poznań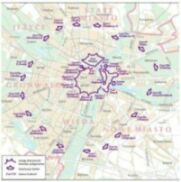 The fortification of Poznań was initiated by General Carl Wilhelm Georg von Grolman (1777-1843), who, between 1815 and 1819, was the chief of Prussian General Staff, and later the commander of the Fifth Army Corps stationed in the Grand Duchy of Poznań. It was the strategic location of the city on Prussian-Russian border and the fears of Berlin of Polish liberation movement (during the second partition of Poland in 1793, the city was captured by Prussia) that triggered the decision on transforming Poznań into a fortress.
The fortress was build for two reasons, i.e. to defend itself and Berlin against the potential attack from the direction of Warsaw, which at those times was in the hands of Russia. Despite official friendship, Prussia and Russia failed to trust each other.
You must remember that Berlin is only 270 km away from the city center and Warsaw - 300 km. Another bonus of the choice of Poznań was the Warta River and advantageous landform features. The times Festung Posen was built were appalling for the city. Its development was hampered for many years.
You are welcome to visit the remains of this exceptional fortress...
Related attachments: