Access to Poznań
Access to Poznań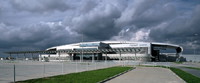 Air travel

Ławica Airport is located 7 km from the city centre, in the vicinity of the route leading directly to the major city points and next to the road out of Poznań to Berlin and Warsaw. It is possible to get to the city centre from the airport using line 59 or express line L, that is going directly to Railway Station. In line L the ticket price doubles and one can take one piece of luggage free of charge.
Passengers have air - conditioned, spacious arrival and departure halls at their disposal as well as travel agencies, an elegant restaurant, bars, banks, shops, Internet cafe, car rental points and viewing area.
Next to the airport hall exit there is a TAXI rank, it is however worthwhile calling RADIO TAXI.
See also:
Train
All trains coming to Poznań stop at Poznań Main Railway Station (Poznań Główny). The Railway Station is composed of two buildings: the Main Hall (Hala Główna) and the West Railway Station (Dworzec Zachodni) connected by a subway.
The Railway Station is located in the city centre, just next to the Poznań International Fair venue (Międzynarodowe Targi Poznańskie). In the Main Hall there are kiosks, shops, fast food restaurants, ATM and Glob - Tour tourist information.
Passengers can get to the city by tram or bus - the nearest tram stop is next to the West Railway Station. Trams no. 5, 8, 14 and 18 leave the stop. In the vicinity of the Main Hall exit there is a municipal bus stop for lines 51, 68 and 76. At night, also night buses approach the stop. To get to the tram stop, passengers should use stairs or a lift leading to the Railway Bridge (Most Dworcowy). There, passengers can use trams no. 6, 10, 11 and 12. TAXI ranks are located next to the Main Hall and the West Railway Station exit. It is advisable, however, to call RADIO TAXI in a point located in the Main Hall.
Automatic train timetable information system (phone no.): 863 38 14, 863 38 15
Central domestic and interantional train information (phone no.): 94 36
See also:
Bus
PKS Station (Bus Transport Company) is located in ul. Towarowa 17/19. It provides both domestic and international transport services. Apart from ticket offices, kiosks, bar and PKS information point also travel agencies selling tickets for international routes are located in the bus station hall.
Next to the station there are fast food restaurants, ATM, a bookshop and a cake shop.
In front of the station there is a tram stop for lines no. 6, 10, 11 and 12.
Information (phone no.): 664 25 25
See also: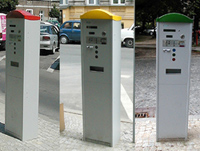 Car
You can get to Poznań driving A2 motorway - a charge is payable for using it; (from the west direction from the border; access from the east direction: from Konin, Modła road junction), national routes no. 92, 5 (east - west direction) and no. 11 (north - south).
The city centre is covered by the Parking Zone. Fare is collected for each vehicle parked within the zone. Drivers pay the parking fee in parking meters located along streets in the city centre. The Parking Zone borders are marked with B-39 road sign.
Divers coming to the city are recommended to leave their cars in guarded car parks and specially prepared buffer car parking lots placed around the Parking Zone.
Related attachments:
See also: