INTERSTUDENT 2017
Interstudent 2017 gala took place in a magnificent Polish Art Gallery of Nineteenth Century in Sukiennice Crakow Hall the first day of "Foreign Students in Poland 2017" Conference. Jarosław Gowin, Deputy Prime Minister, Minister of Science and Higher Education, gave the prize to the best foreign students - Interstudents 2017.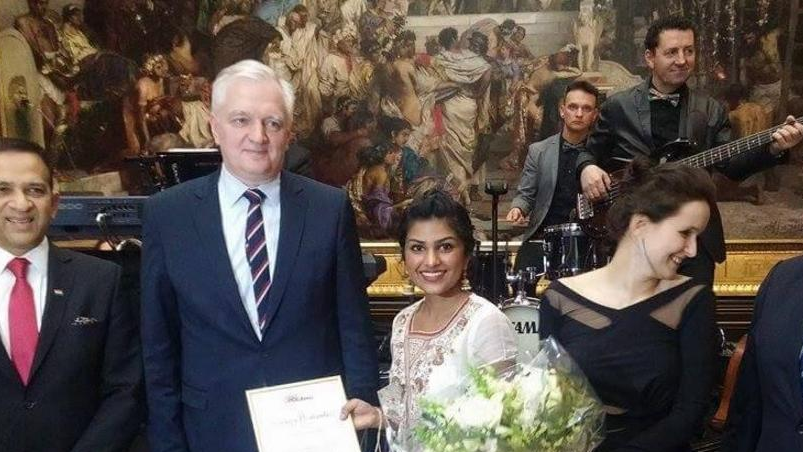 Interstudents 2017 are:
In the category undergraduate studies:
Sowmya Thottambeti from India, Poznan University of Technology
Vadym Melnyk from Ukraine, University of Information and Technology and Management in Rzeszow
In the category graduate studies:
Omar Al-Obaidi from Sweden (Iraq), Jagiellonian University Medical College
Seyed Mohammadreza Sadr (Reza) from Iran, University of Warsaw
In the category postgraduate studies:
Sabina Brazevic from Lithuania, Adam Mickiewicz University in Poznan
Anastasiya Niakrasava from Belarus, University of Warsaw
Omar Al-Obaidi received the title of the Most Popular Student in Internet voting.
The jury of the competition selected winners among 100 submitted applications. The jury received applications from students from Ukraine, Canada, Iran, Iraq, India, Albania, Armenia, Belarus, Colombia, Czech Republic, Salvador, Ethiopia, France, Germany, Ghana, Great Britain, Georgia, Spain, Holland, Indonesia, Italy, Kazakhstan, Lithuania, Malaysia, Mali, Morocco, Moldova, Norway, Romania, Russia, Slovakia, Sri Lanka, Sweden, Syria, Turkey, USA and Vietnam.