Signed contract for waste incineration plant
The City of Poznań and SITA Zielona Energia signed a contract for a project involving the financing, design, construction and operation of a municipal waste incineration plant. It is the largest investment of this type in Poland implemented within a Public-Private Partnership (PPP).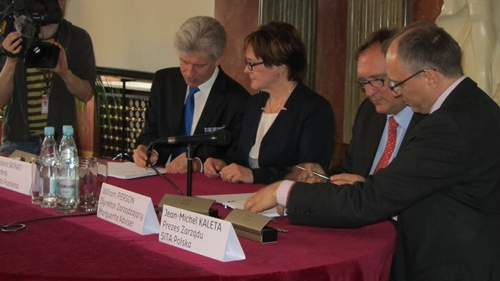 In Działyński Palace, Mayor Ryszard Grobelny and Treasurer Barbara Sajnaj signed a contract with SITA Zielona Energia and Marguerite Waste Polska companies, which will construct a waste incineration plant in Poznań, and for the next 25 years will operate the facility for thermal treatment of municipal waste (ITPOK) with the annual capacity of 210,000 tons - all of which within the scheme of a Public-Private Partnership.
Subject to the PPP contract, SITA Zielona Energia will construct a modern facility for the thermal treatment of municipal waste at a site that belongs to the City of Poznań. The cost of the facility is estimated at over PLN 725 million and will be financed entirely by the shareholders of the SITA Zielona Energia company and a consortium of three banks - Pekao SA, PKO BP and Bank Gospodarstwa Krajowego (BGK). Furthermore, the PPP contract enables the City to cover a share of private financing with Community funds, which may in effect decrease the investment cost for the City and its inhabitants.
The incineration plant will be put into use in the second half of 2016, and will help the City meet the requirements regarding the reduction in the amount of municipal waste disposed on landfills resulting from the Polish and the EU legislation. The City will use its own funds to reconstruct the road layout in the area of the new investment.