Business services sector in Poznań - analysis, challenges and trends. Results of a joint study by the Poznań City Hall, Cpl Poland and Colliers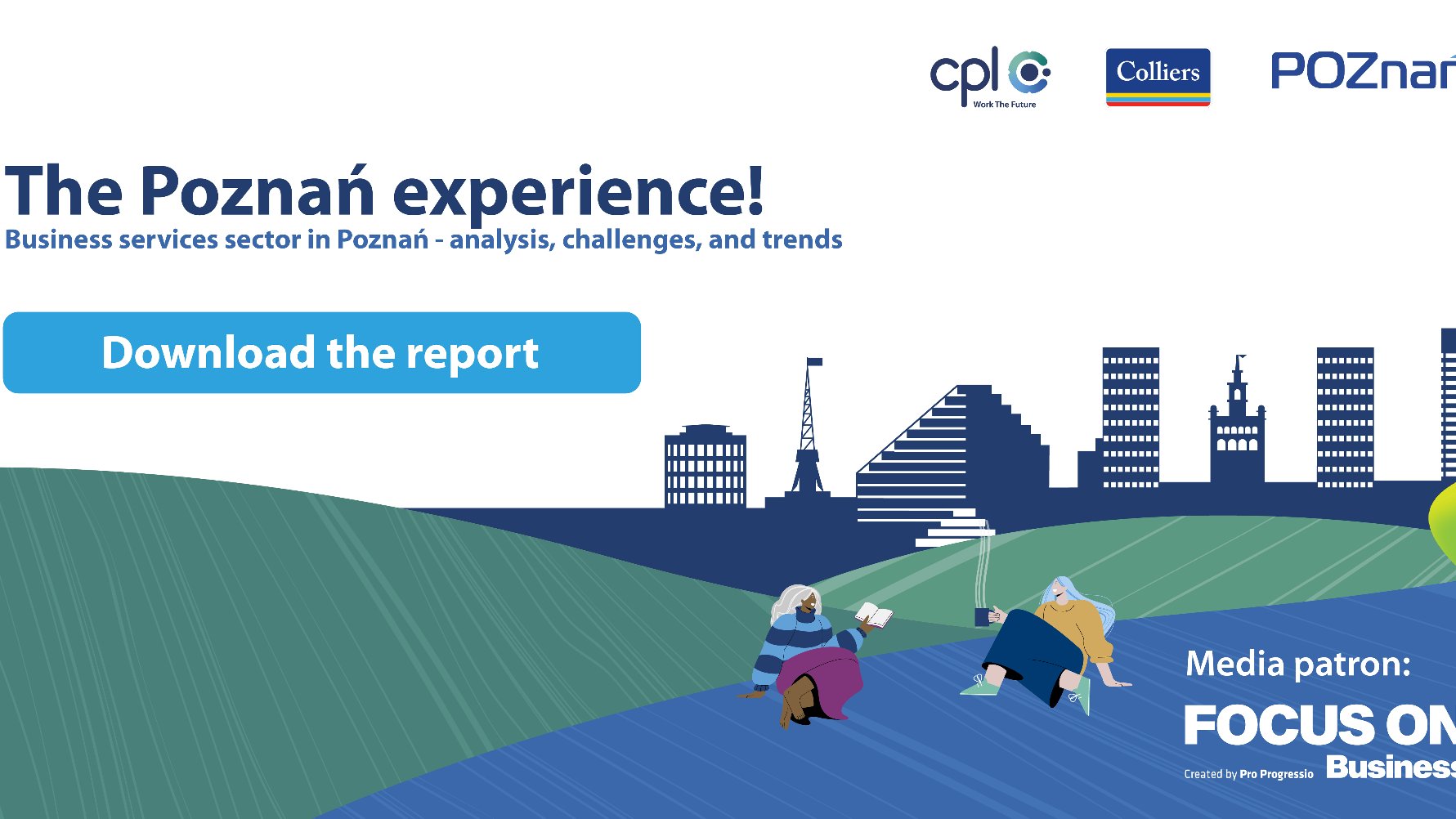 Every year, more than 24,000 graduates leave the walls of Poznań's universities, demonstrating the strength of the Poznań labour market. This attracts to the city not only Polish investors (26 per cent), but also German (25.5 per cent), American (13 per cent) or English (7.5 per cent). At Poznań's universities, it is possible to study more than 50 languages, which is all the more important as knowledge of foreign languages is one of the key elements for companies recruiting in the capital of Wielkopolska, handling business processes in more than 30 languages. The most popular are English (94 per cent), Polish (75 per cent) and German (66 per cent). Specialists with knowledge of niche languages such as Hebrew, Chinese and Arabic are also increasingly being recruited.
The scientific potential of Poznań is also one of the key elements for companies deciding where to locate their business. The results of the report confirm that companies choose Poznań as a place to do business because of its strong academic centre (73 percent), and very good cooperation with universities is one of the most important elements supporting the modern services sector in the capital of Wielkopolska, as indicated by almost 74 percent of the respondents. The attractiveness of Poznań for investors is confirmed by the fact that all surveyed companies (100 percent) would recommend the city to other investors.
- Modern business services is one of the most rapidly growing economic sectors in Poland. In recent years, the sector has proven that it is able to react quickly and excellently to crises, developing solutions that enable the continuation of started business processes and projects. Poland is still one of the most attractive locations for centres in this sector - says Jacek Jaśkowiak, Mayor of the City of Poznań.
Job prospects and support from the city
The modern services sector recruits not only graduates in IT or engineering - it is also keen to recruit graduates in philology or business administration. Among the technology companies operating in Poznań, the role of BPO centres (Business Process Outsourcing), which already account for 15% of all companies, has significantly increased, as well as research and development companies (11%), which are now actively looking for employees among university graduates. Local universities are adapting their educational programmes to the needs of the labour market, especially the business services sector, and this is making the city attract investors from various industries, thus creating a friendly environment for both employers and students who, after graduation, have a better chance of finding a job in the sector they are interested in.
- According to investors, the intellectual potential, the academic nature of Poznań and the cooperation with universities, are decisive factors in choosing our city to do business in. In response to this, we are trying to promote the industry to students and deepen cooperation with Poznań's universities - comments Katja Ložina, Head of Investor Relations Department at Poznań City Hall.
Investor Relations Department, responsible for cooperation with potential and existing investors in the Poznań market, notes the growing importance of the modern services sector in the local labour market and monitors new trends and market requirements. The department strives to promote the potential of Poznań through a number of projects aimed at different groups of customers.
You can download the report at The Poznań experience website.
About Cpl Poland
Cpl is a global provider of innovative recruitment solutions and an expert in talent acquisition and development. Cpl Group consists of more than 20 specialised brands with decades of experience in recruitment, HR and outsourcing HR services. In 2021, the company became part of Outsourcing Inc. based in Japan, increasing the geographical reach of Cpl's services and providing access to our wider network of offices for clients and candidates. Cpl has been providing consistent talent acquisition strategies for more than 30 years, building integrated recruitment processes, flexibly tailored to the structure and culture of the client company. Cpl consultants have diverse experience in the recruitment services market, across a range of business areas.